I just watched the documentary Audrey on Netflix about the renowned actress, fashion icon and philanthropist, Audrey Hepburn. Wow did I learn a lot about her. I've always admired her style and Breakfast at Tiffany's is one of my favorite old movies. Of course, in her later years, she devoted her entire life to UNICEF, raising attention to the devastating plights and starvation of children around the world.
If you want to be inspired please learn more about her. Hepburn was a child during World War II and suffered malnourishment herself. At the height of her career she walked away from Hollywood to take care of her son. She did not grow up with loving parents so she wanted to be there for her son the way her parents were not there for her.
Hepburn was awarded the Presidential Medal of Freedom in recognition of her work as a UNICEF Goodwill Ambassador in 1992, one month before she died of appendiceal cancer at the age of 63.
So she was an amazing woman. And the iconic style she created is inspiring 2021.
Here are some of my favorites.
1. The Trench Coat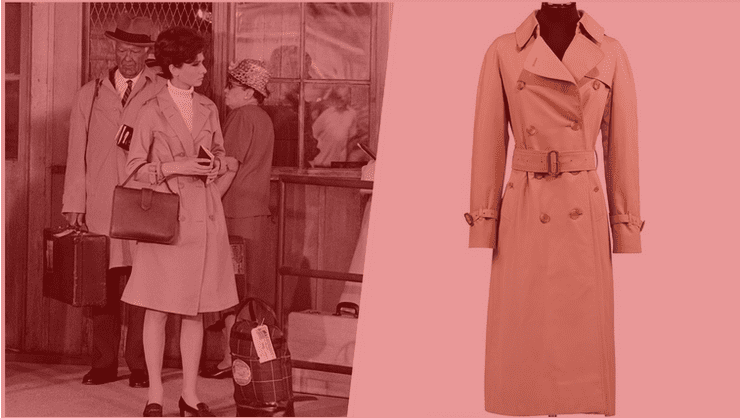 Nothing is better than Audrey's Burberry Trench coat but these days, colorful and leather trenches are a new twist to her more classic trench. Below you'll see I'm wearing a black trench as a dress and of course pearls, another iconic Audrey accessory.
Trench coats are popular and bright colors, especially green are very on trend. So this trench is perfect.
Leather and faux leather trench coats are everything this year. I actually thrifted this leather trench at Goodwill for $15.
2. Loafers
I'm so sad I don't have a pair of loafers yet. I've got my eye on a Prada pair but I can't afford them. Audrey loved flats, ballet flats and loafers. Hepburn was a dancer before she was an actress so ballet shoes were a natural for her. Here is an iconic picture of Hepburn wearing black loafers In the movie Funny Face, another of her iconic styles and loafers are HUGE this year. especially chunky loafers. (Read about some of my favorite loafers in "What's In My Bag" blog post)
3. Head Scarves
Audrey Hepburn wore scarves around her head her entire life. It was a popular look in the 60's and no one pulled it off like Hepburn. I love scarves. I wear them as tops, swimsuit coverups, belts, you name it. This year I've been wearing them on my head too. This photo below of Hepburn is so iconic you can buy a poster of it. You can get this one on Amazon.com.
In my Instagram picture below, you'll see I'm wearing two of Hepburn's looks, a head scarf and oversized sunglasses.
4. XXL Sunglasses and Cat Eye Sunglasses
Audrey Hepburn was one of the first people to wear oversized sunglasses. This iconic picture below is the image of Holly Golightly standing outside Tiffany's, having breakfast out of a paper bag. She's got her iconic oversized, slightly cat-eyed sunglasses and of course those pearls.
I paid homage to Audrey Hepburn a few years back by mimicking this famous photo in front of my favorite coffee shop Coffee Republic.
Audrey's oversized sunglasses and cat eye sunglasses are two of the biggest eye glass trends for 2021.
In 2021 colorful versions of those cat eye sunglasses are one new twist.
5. Pearls
It was in the movie Breakfast at Tiffany's that the Hepburn-pearl connection was first established. This is another famous photo of her in a single strand of pearls.
Of course, pearls are everything in 2021, in part due to another style icon, Harry Styles, who wears pearls with jackets and even t-shirts. I think this is the first time pearls have been so dressed down (as far as I can remember). I love it. Why keep pearls in a box ready for that special event? Especially when there are few special events these days. Wear pearls for your every day look as well. You can get inspiration from Harry below.
I love pearls, they are my new favorite. I have also thrifted a green pair that I love. Below are a few ways I like to style pearls.
6. Oversized white button down Shirt
Audrey Hepburn was famous for her oversized classic white button down.
Oversized everything has been on trend for 2020 and continues into 2021. I love oversized button downs.. not just the white ones but colorful button downs too. Here are a few ways I style them. This first look uses the oversized white button down as a layering piece, underneath a sweater vest.
White button downs can be dressed up or dressed down. I've paired an oversized white button down with joggers in the look below.
In this next look, I'm wearing an oversized pink button down as a dress.
And finally I'm using another light pink oversized button down as a layering piece, this time as a jacket over a turtle neck. And notice the pearls.
7. Crop Pants
The skinny black capri was definitely an Audrey Hepburn look but as you can see below she also wore capri or cropped pants in stripes and many other prints. By the way, Audrey wore a lot of stripes both in blouses and pants.
Capris for 2021 are everything. There's capri yoga pants, wide-legged capri pants, skinny capris, capris in colorful prints and stripes. You can dress them down with sneakers or dress them up with pumps. Capris are comfortable and a great look for spring/summer.
8. Halter Dresses
Audrey Hepburn was also famous for her halter dresses .
Halter tops and dresses always come in and out of style. Halter tops were most popular again in the '90s and early aughts. But they are big again in spring of 2021. Women usually either love or hate halter tops. For many it highlights their shoulders (a part of the body most of us are comfortable with). But some feel halters can be uncomfortable because of the tie around the neck and then of course you can't wear a normal bra. If you love them, then they are back. If you hate them, ignore this trend. I thrifted this halter below. It also has the cool retro print vibe that's so on trend for 2021.
If you have any questions, please contact me at LexySilverstein@gmail.com.
Follow me on my socials:
Instagram: @lexysilverstein
Youtube: Lexy Silverstein
Twitter: @eLEXYfy
TikTok: @lexysilverstein
Facebook: Lexy Silverstein
Remember to eLEXYfy! Make the Ordinary -Extraordinary!