I recently went to Nashville for my cousin's wedding and let me tell you, there are photo opportunities at every corner you turn. I am continuing my "Places to Take Photos in…." series. My last blog past was "Best Places to Take Photos in Miami" . This next blog takes place in Nashville.
I don't think I'll be able to cover all of the best places to take pictures because that would take 18 years to read. But here are some of my favorites:
First things first is Casa Rosa. We went here multiple times during my most recent trip and it is the coolest restaurant ever. There's hand-painted artwork all around the building by an amazing artist. The talent is unreal! Plus, there is a huge stage that is usually used for dancing but I took advantage of it when it was empty. Upstairs there is a VIP area (where Miranda sits when she visits the restaurant/bar) with cool neon signs, an awesome bar, and overview of the restaurant from above.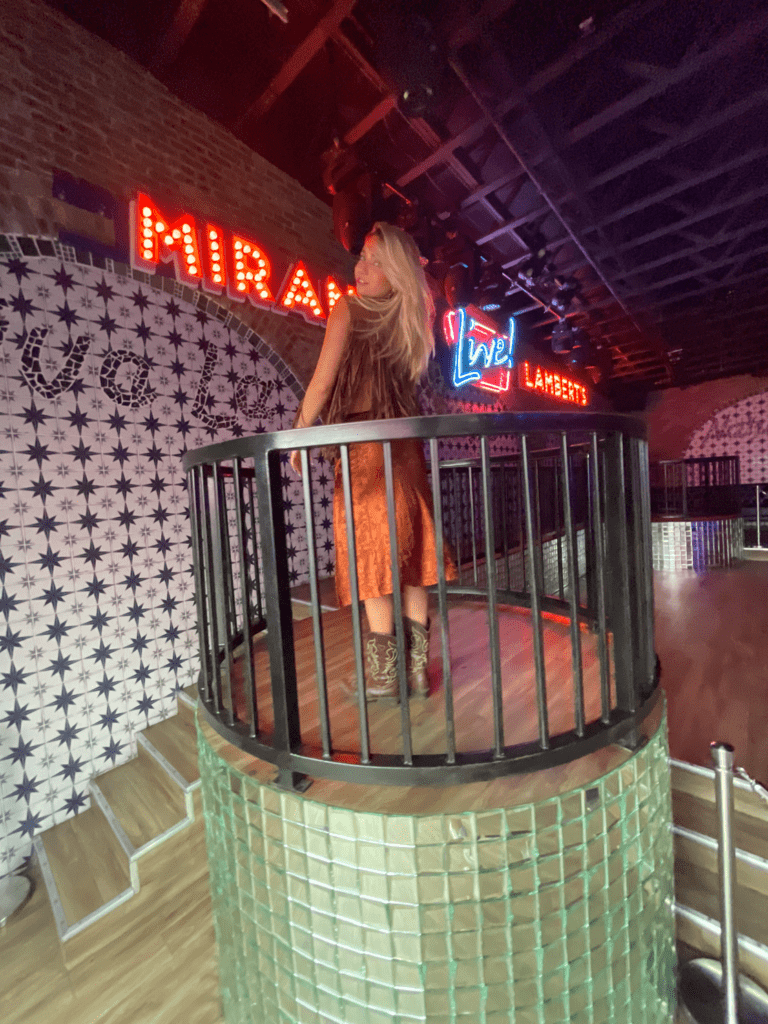 This boot store was the holy grail of cowboy boots. It was literally like walking into heaven… if you qualify heaven as a store with 20,000 cowboy boots. Maybe that's a bit of an exaggeration. There is a huge red cowboy boot in front of the store. I wanted to take it home and use it as house decor.
I swear this wasn't planned but when I was at the store, I just so happened to match the cowboy boot perfectly so I'm literally twining with the boot. (see the picture below). Inside you can go shopping for authentic cowboy boots. Their big thing is buy one pair and get two other cowboy boots for free. So make sure you go to the store with at least three cowboy-boot-loving-friends. Then inside, as I mentioned, you'll see rows and rows of cowboy boots. Almost as if the cowboy boots are there as a backdrop for your photos.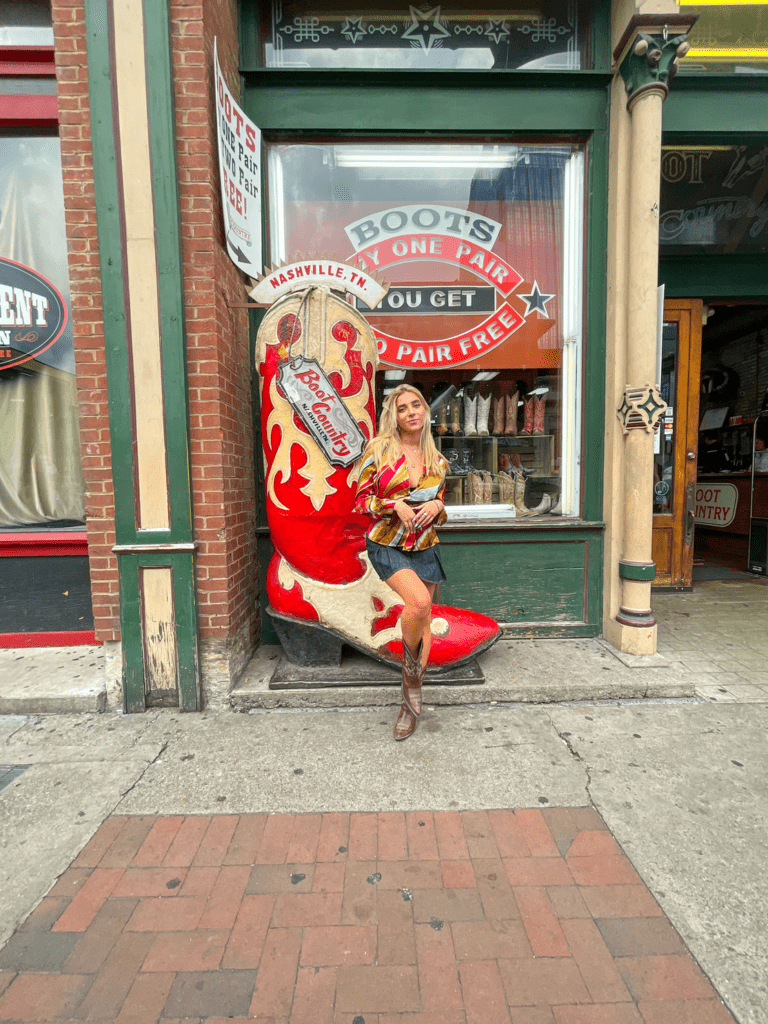 Kittenish is just a cute clothing store in Nashville (there's one in Dallas, Texas too). From the outside, you would never realize there are such great photo opportunities inside. There is a pink flower wall with the iconic Mean Girls line, "You're like really pretty" in neon lights. As well as a bunch of adorable mirrors, with cute quotes, for the perfect mirror photo. They were even projecting Friends on one of the walls which was so cute.
Murals
Nashville is known for their murals. There are literally so many walls with amazing art all over the city. Here is one of the classics below and here is a website where you can find many more murals.
I discovered this photo location by accident. It's not too far from Broadway Street. We were looking for a flower shop to buy flowers for my cousin's wedding and came across this very aesthetically pleasing pink building. We didn't end up buying flowers here because you had to order them in advance. But I couldn't pass up this photo opportunity. For all you Emmas out there, this is definitely the place to take photos. It's cute even if your name isn't Emma.
This park is beautiful. It doesn't exactly look like it'd be in Nashville. It honestly looks like one in DC. The pantheon is located in Centennial Park. It's a great place to hang out for a picnic as well. Free and easy parking which is always a plus, especially in cities like Nashville. The beautiful white columns are the perfect background for Instagram or even wedding photos.
The Virgin Hotels
The Virgin Hotels is another off the beaten path location to take photos. We happened to be staying here while in Nashville and it has great aesthetics. Whether it be the Commons Club , the Pool Club – on the roof with a beautiful view of the city, the Shag Room, or any guest room it was photo heaven. It doesn't look that impressive from the outside but once you step inside you'll see guitars and drums hanging from the ceiling. They aren't trying to reach the party crowd that visits Broadway Street. If you are visiting and you want to find a place where the locals will go to party, put the rooftop on your must visit list.
Large Guitars
These large guitars were outside several recording studios along Music Row in Nashville. This area is considered the heart of the city's entertainment industry between 16th and 17th Avenues South. This was near the Virgin Hotel. We were just kind of walking around when we found these large guitars on the last day we were there and they are just the coolest.
RCA Studio B, formerly referred to as just RCA Studios, is one of the oldest and most prestigious studios in Nashville. Gaining wide popularity in the 1960s, RCA Studios recorded huge artists like Elvis Presley, Roy Orbison, Willie Nelson, Dolly Parton, and several others. Situated southwest of downtown, Music Row is home to several businesses and attractions related to the city's musical heritage. Considered the heart of Nashville's entertainment industry, the Music Row area is centered on 16th and 17th Avenues South, which are known as Music Square East and West respectively.
Another random photo location find. I Dream of Weenie served up creative hotdogs from their iconic converted yellow VW bus. My cousin came across this hotdog stand that also serves vegan hotdogs. It's adorable and the "dogs" are amazing. I'm not sure how they put the stand together. I can't tell if it's a working car or just there for show but they built a deck and roof around the vintage van. It's located at 113 South 11th Street in East Nashville. Definitely worth the trip. Make sure you are hungry.
Basically, the moral of this blog post is, any location can be used for a photo shoot. No joke, there were a million different places that were not originally designed for photos but worked perfectly. Also a lot of stores and restaurants are getting smart and creating photogenic locations to attract people to take pictures. Hope this helps for next time you go to Nashville!!!
If you have any questions, please contact me at LexySilverstein@gmail.com.
Follow me on my socials:
Instagram: @lexysilverstein
Youtube: Lexy Silverstein
Twitter: @eLEXYfy
TikTok: @lexysilverstein
Facebook: Lexy Silverstein
Remember to eLEXYfy! Make the Ordinary, Extraordinary