Natalia Trevino Amaro is a sustainable fashion designer who just had her first show in New York Fashion Week recently. Her designs are amazing and great for the earth, so that's a win-win in my book. Here's my interview with Natalia. I hope you enjoy.
Let's Talk Fashion with Natalia Trevino Amaro
LEXY: Natalia, tell us a little bit about yourself.
NATALIA: I'm Natalia. I am 21 and I'm a sustainable fashion designer. I graduated from FIDM in May of 2020 and I've been running my slow fashion brand basically since then and it's what I do for a living.
LEXY: Was fashion something you always knew you wanted to do or was there a certain thing or person that made you interested in it?
NATALIA: Yeah I was always interested in it. I feel anybody who loves fashion is always "since you were little" you just love dressing up and all of that. I was definitely that kid but I didn't take it seriously as a career until I was in high school.
I feel everybody makes it out to be some dream career that you just can't access. It seems one of those oh I want to be a singer or an actress type of deal where you're not gonna actually do that but you just dream about being famous or whatever. That's the mindset I had about being a fashion designer. I was "oh it'd be cool but I don't think I can do that realistically".
LEXY: How did you get started in fashion?
NATALIA: Once I hit high school and everybody starts bombarding you with college questions. I actually did my research and started realizing fashion schools are a thing.
I didn't know that growing up. I grew up in the midwest so it's not a common thing that people will talk about or even think about. Once I realized that fashion schools are a thing and that people actually are successful after going to school for it, that it's not an unattainable career, that's when I started taking it more seriously.
That's also around the time where I started taking sewing more seriously and was taking classes in high school for it. All that put together is what actually led me to fully pursue this career. But it's definitely something I've always wanted to do and it was always in the back of my head.
LEXY: What was your very first design? Can you take us back?
NATALIA: So my very first design, I had my grandma help me with it because she knows how to sew super well. She doesn't live here but she was visiting us and I think I was maybe 10, maybe 9 or 10 and I wanted to sew a cute outfit but she basically made the whole thing. I was just there for moral support but it was this hot pink shimmery tank top with a black and silver polka dot shiny skirt kind of deal.
I made a matching belt and a matching headband to the skirt and I thought I was the coolest person ever. It was an atrocious outfit. Very 2000s of me but that's the first thing I ever actually kind of made, which was fun. Then later on I think the first thing I ever made after making your basic pillowcase and pajama pants or whatever was a skirt, a basic type of skirt, nothing crazy. So I always go back to that outfit with my grandmother because that one's more fun.
LEXY: How would you say that you have progressed through the years with your designs from that pink sequin top and the polka dots?
NATALIA: I think I'm a little more minimalistic. I definitely still stick to the very black white and then a pop of color type of deal. I really love that vibe, I never grew out of that. But I'm a little more toned down. We don't do the shiny sequins, we go for a little satin silky moment a little more tame. I think overall I've always been a little bit more minimalistic I would say elegant or classic.
With my style, I think that's definitely stayed with me throughout the years. I'm not usually a super colorful person. I just stick to classics and I thought I would get out of that phase at some point but I just always go back to it.
I think that sustainability also has a lot to do with wearing those more minimalistic pieces. It's hard to be on trend while also being sustainable. I love to be on trend which is why I thrift most of my things which is how I am sustainable but if you just buy a garment there's always those classics that you have in your closet that can literally surpass all of the trends.
I think I have a white button down that I've had since elementary school that is a little oversized and somehow it's just managed to fit me all throughout the years. That's just a great way of being sustainable is having those more minimalistic pieces.
Sustainability & Ethics in Fashion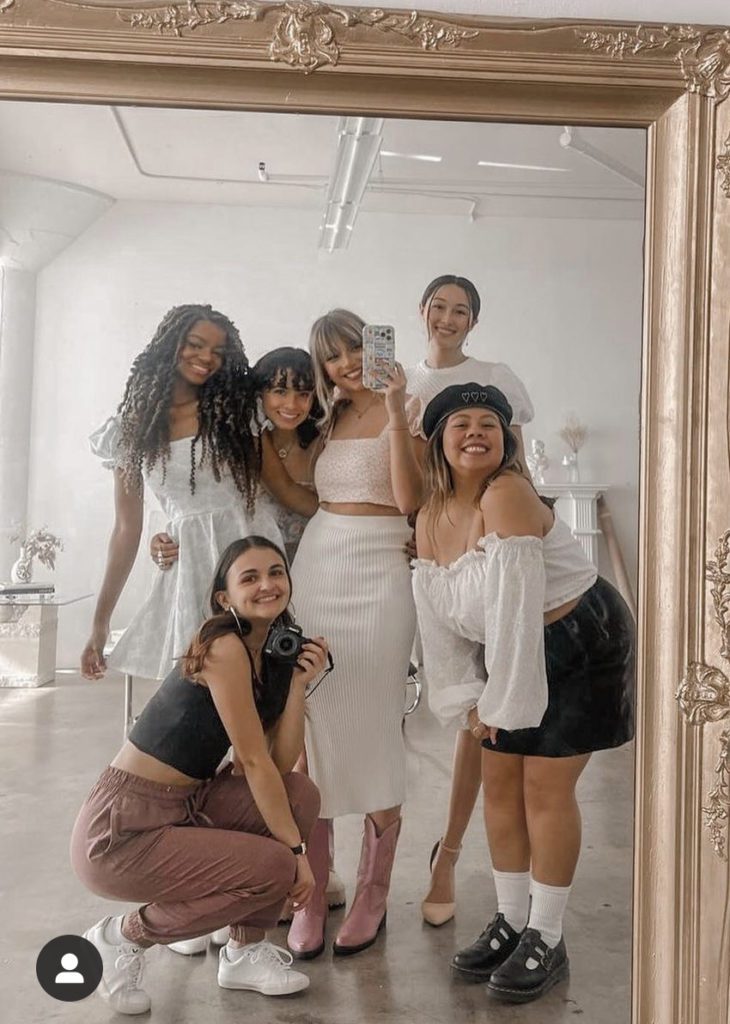 LEXY: What first made you interested in sustainability in sustainable fashion?
NATALIA: I always say it's recent. I guess it's been a couple years now so it's not as recent but it wasn't until I got to college that I actually started thinking about it. Growing up in the midwest nobody seemed to care. It's just not something you're taught or that's around you.
I guess nowadays it's a little bit more talked about but when I was growing up it was just not a conversation that was had. When I got to college I had a lot of classmates that talked a lot about sustainability and specifically within the fashion industry and they would post a lot on social media.
I just started feeling guilty about not knowing all these things. I knew it but I didn't actually know it. Everybody hears that sweatshops exist but nobody actually acknowledges it. We all know it's a thing but nobody actually cares to do anything about it, that's kind of how I felt.
Once I was into my first year of college towards the end of the second semester, I thought maybe I should start taking this more seriously. I started doing more of my own research on the industry. And I came to the conclusion that if I want to be part of the industry I don't want to be the bad part of the industry that's doing the harm. I would rather be part of the good side that's trying to do better and be better to the planet, to people in the industry and everything.
That's kind of when I decided to start my sustainability journey but it's definitely been a journey. It's so hard to unlearn everything that you've been taught growing up your entire life but you know we've managed.
LEXY: Do you incorporate sustainability in your everyday life?
NATALIA: I've definitely been trying to incorporate sustainability into my everyday life. I think it wasn't until I was able to move out and live on my own that I was able to actually really incorporate it.
I definitely compost. I have all the fun cleaning supplies as well that are all reusable. I try to buy every product in the most sustainable way possible. If I can I have sustainable toilet paper. Everybody makes so much fun of me for it every time they come into my house "oh is this reusable toilet paper". I'm not that disgusting it's just made from recycled paper, calm down.
I definitely try to be as sustainable as possible in my everyday life but obviously I'm not perfect. I still create a lot of waste and it's definitely hard. I try but I'm still figuring it all out.
New York Fashion Week
LEXY: Was this your first time attending New York Fashion Week?
NATALIA: I interned through New York Fashion Week back when I was in school but I haven't attended it necessarily so I guess it was a very different experience.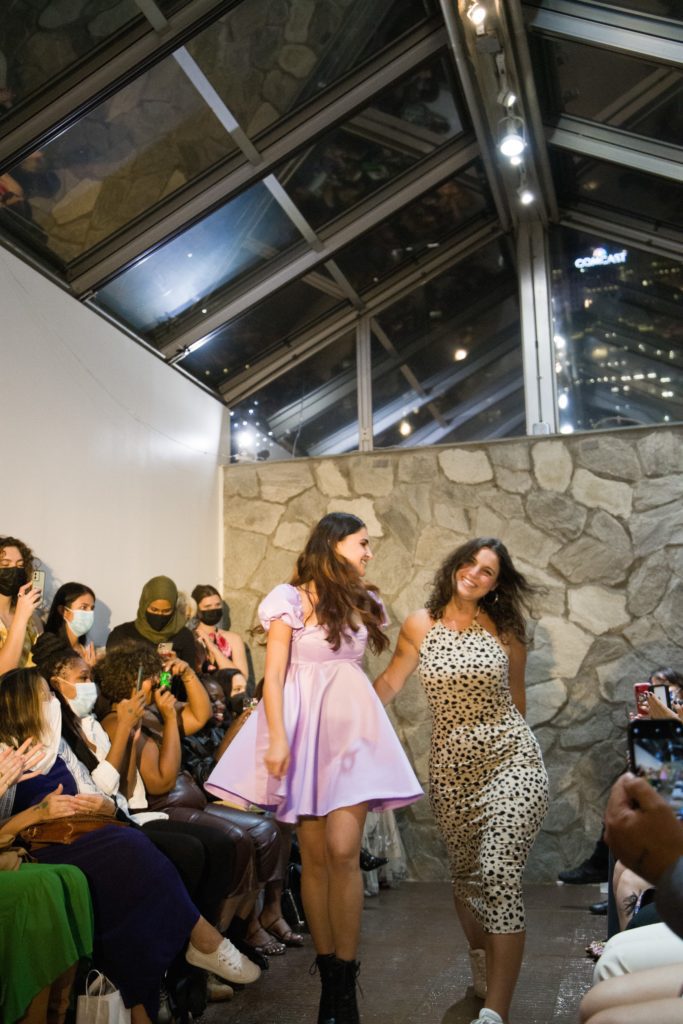 LEXY: How was the experience, was it everything you ever expected?
NATALIA: It was the best night ever. I wasn't expecting that much I guess mostly because I don't want to give myself super high expectations when I do in-person events. Just in case it doesn't go well I don't want to let myself down I guess.
So I wasn't expecting much out of it. I was excited to show and I hoped it would go well. I hoped people would show up, but we ended up selling out the show which was incredible. It was a small space because the girl who runs the actual company wasn't sure how many people would show up and it was their first time doing a show since COVID. They just didn't know how the crowds would be. We ended up having so many people wanting to come in that we had to turn people away. It was incredible. The energy was just so cool.
It wasn't just fashion people. I had girls that were nurses, people who were studying computer science and a lawyer, all these different types of people that just loved sustainable fashion and that's why they showed up. It was just a really cool environment and such a cool vibe and so different from the typical New York Fashion Week influencer type of vibe. It was cool to just have, I don't want to say "regular people" but people who aren't in the fashion industry also care and show up. It exceeded all my expectations.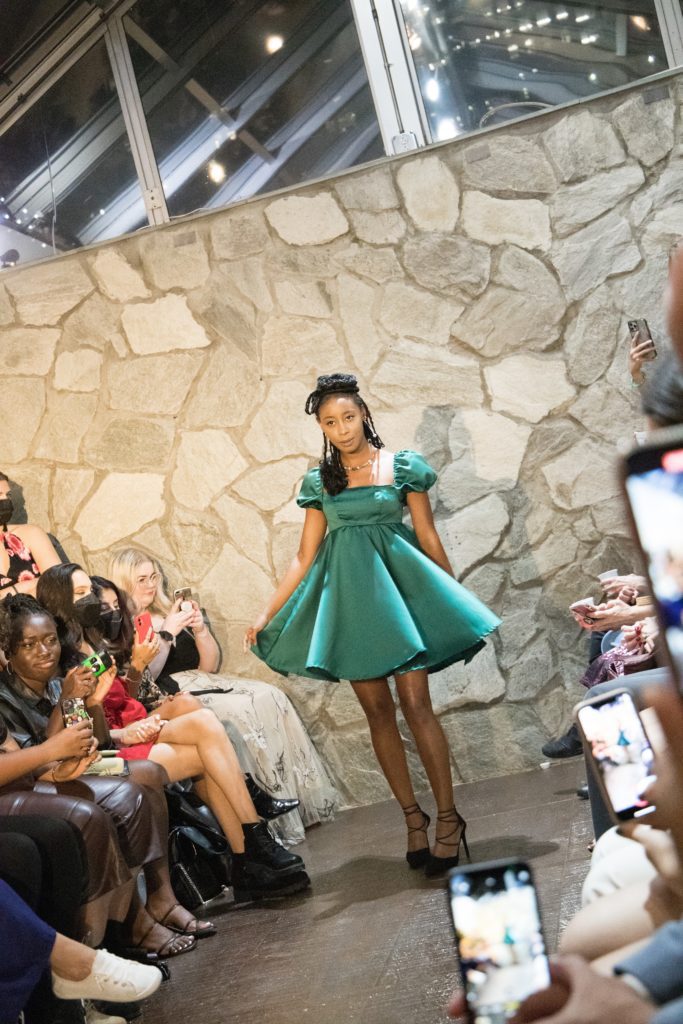 LEXY: Can you tell us more details about how the day went leading up to your New York Fashion Week show?
NATALIA: So they actually reached out to me about the show in August so I didn't have that much time to prepare. Obviously, I immediately said yes, sign me up but I already had two trips to L.A. planned in August so I was like shoot, I don't know when I'm gonna make this collection because I literally don't have time.
I was doing a pop-up shop in L.A. so I was going there to give stuff to them and then I had a second trip to bring my stuff back so I was like well I've got one week in between the two trips to kind of figure it all out.
So I basically made it all within one week which was insane. Yeah that's how that went.
LEXY: How did the show go?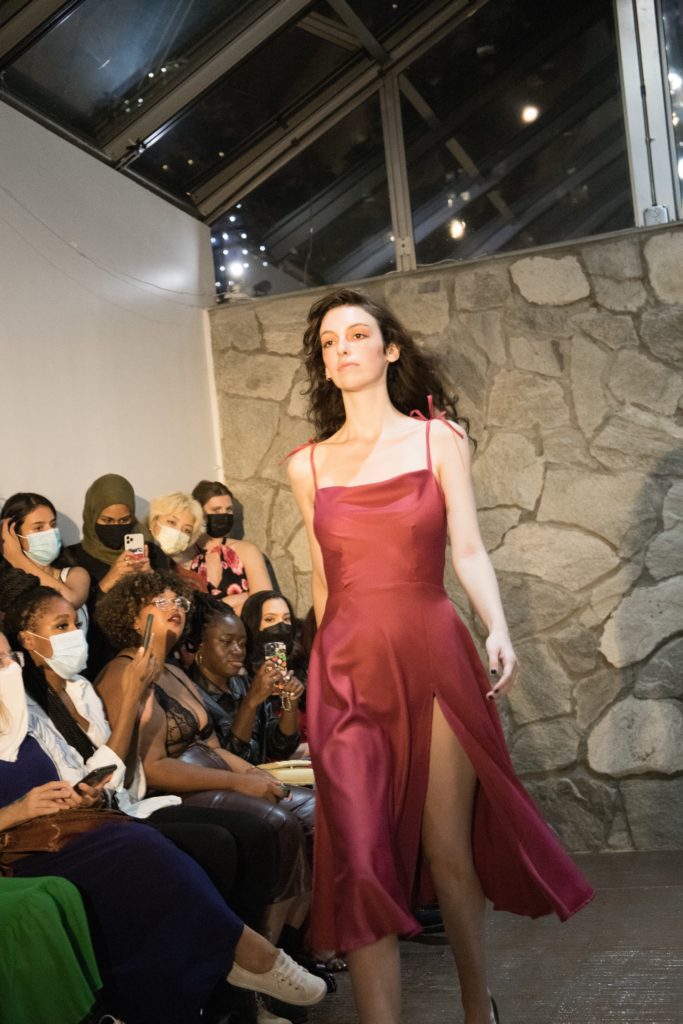 NATALIA: That day was such a hectic day. They gave us the event space, it opened up to us at 3:30 and then we had a pre-show cocktail at 5:45 so that only gave us two hours to get the models in makeup and hair. We had to do the run through and kind of figure out the whole system of how they're gonna change into everything and what everything was gonna look like, set up the chairs, do everything within two hours.
We had a little pop-up shop so we had to set that up too. So it was super hectic for two hours but somehow we all pulled through and it all went really smoothly. And then we had people come in and it was really great.
I did not eat all day long. I had breakfast but I didn't think about the fact that I wouldn't have time to eat later that night so I just didn't eat at all that day and I didn't even realize. I hadn't eaten until after the show I got back to the hotel room and it was 10 pm and I was like oh my god all I've had today is a breakfast sandwich at 9 am and I'm starving. That just shows how much high natural energy I had. I was so invested in everything that I wasn't even thinking about it.
It was super super fun, super hectic but I had a couple people helping me out with content and social media and getting videos too which was really nice so that way I could talk to people and be social.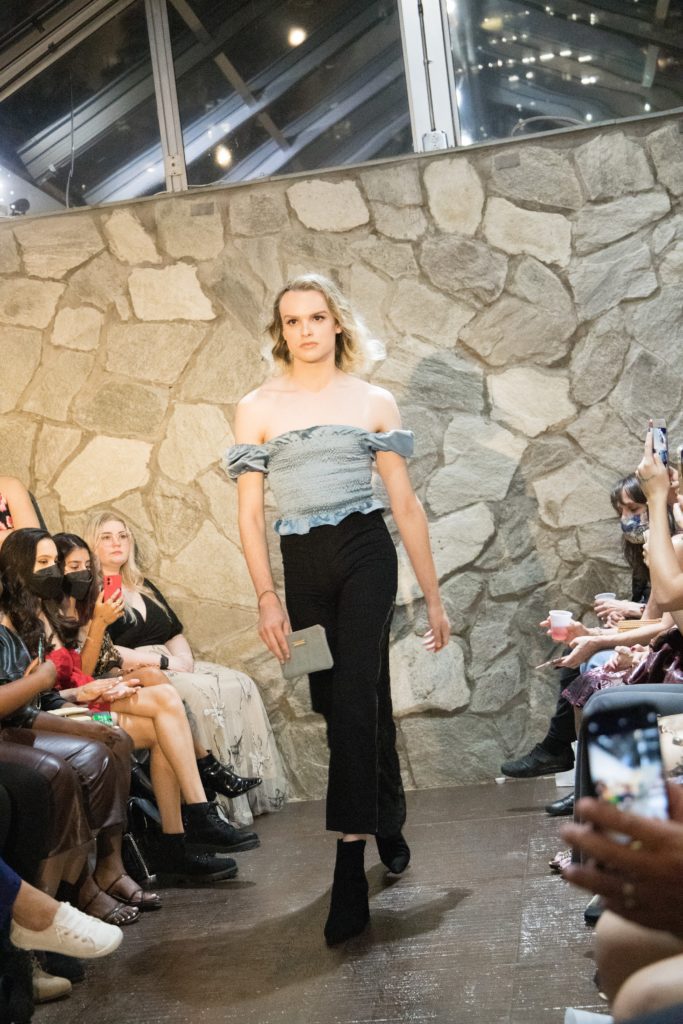 LEXY: How many pieces did you end up showcasing?
NATALIA: I had six looks. It was four dresses, two tops, a skirt and pants. But those pieces were made available in my shop in November as kind of my holiday collection but I'm having them in multiple different colors so they'll be more pieces when I actually launch it but those are the ones I decided to show.
Natalia Trevino Amaro: Sustainable Fashion Brand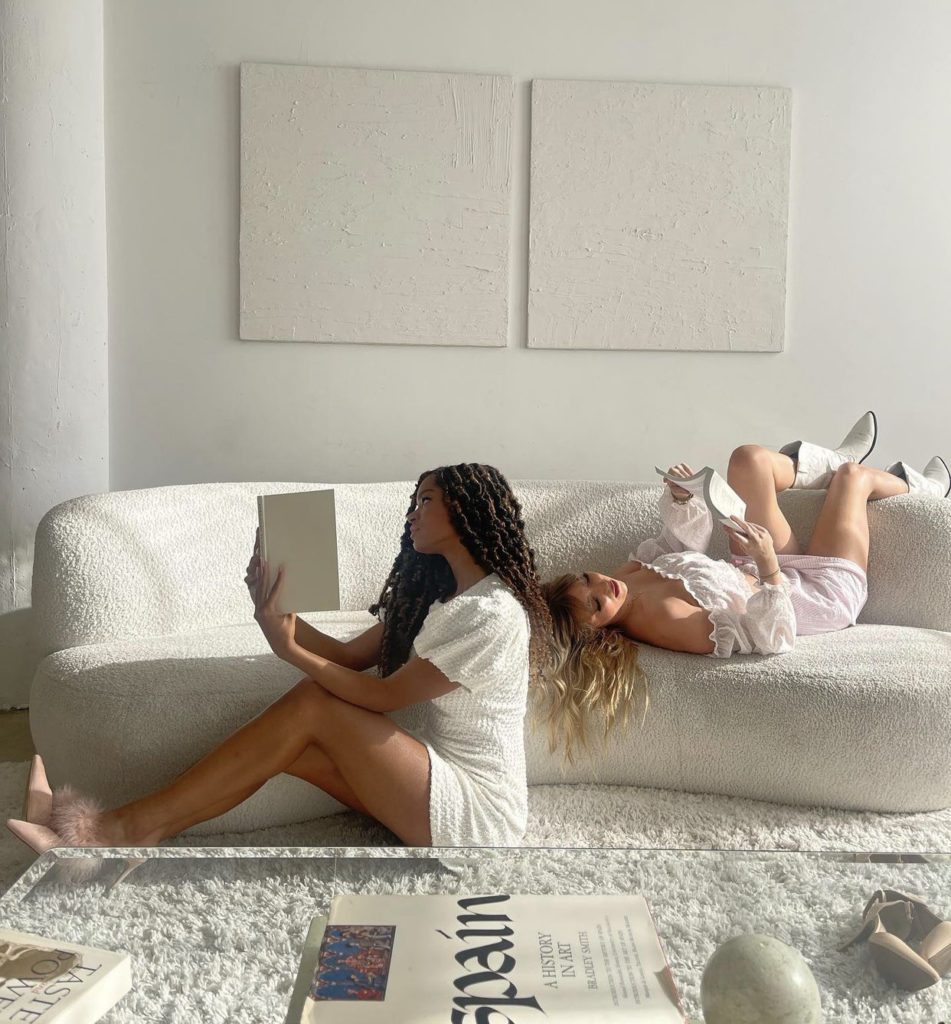 LEXY: What really goes into making a sustainable item can you tell us more about your brand?
NATALIA: Yeah, sustainability is just such a vague term because so many things can be sustainable and that's something I struggled with when I was starting my brand.
As far as fabrics I personally use a lot of dead stock fabric so it's leftover fabrics from other suppliers. That's what I find to be I guess the most sustainable because in a way it's thrifted fabric or secondhand fabric that's already made that would have gone to the landfill.
But then I do use biodegradable fabrics and natural fiber fabrics if I ever do buy something new. I try not to because that's still creating new things when there's so much that's already out there.
Everything's zero waste so I don't throw anything out. I try to reuse every scrap possible so that way I also feel better about the fact that a lot of my deadstock fabrics are polyester. I try to reuse everything so it doesn't get sent to a landfill even if it's scraps.
I have sustainable packaging as well. I don't have cute packaging which I would love to have but at the same time I don't want to spend the money on that. It also it's just not the most sustainable route to take.
And then everything's made to order which is the more sustainable route than having set inventory, because everything that's made is already made for somebody who's already bought it. I do make some pre-made pieces every now and then but not the majority of time.
LEXY: What is something that's super important to you about your brand that you just want the listeners to know?
NATALIA: The most important thing about my brand I guess is just the sustainability and ethics behind it.
I had such a hard time coming to terms with being in the fashion industry because it just seems so vain. It just seems such a bad place to be in because there's so many beauty standards and just a lot of abuse of people, whether that be interns during fashion week or actual people making your clothes or whatever. I feel it's such a bad place to be in a lot of ways
For me when I came into the fashion industry I was okay if I'm to do it. I want to do it well and I want it to have a purpose. It's not just "oh I want to sell you pretty clothes" or "oh I want to get rich off of making clothes." I genuinely want to do good and hopefully give you a greater message of being more conscious and love the clothes that you do buy and feel good about what you're buying.
I think purpose is so important. I feel so many fashion brands are just there to make money and just there to sell you pretty clothes and I just don't feel that, I feel things should have a greater purpose so that's kind of my thing.
LEXY: What are some of your favorite sustainable stores?
NATALIA: I usually thrift anything that I buy. If I buy from somebody else, I'm always like "I could make it myself".
So for me I just love thrifting. I definitely browse through Thread Up all the time. I love the Real Real. Poshmark is a great place. I just go on those sites every once in a while just to see what's new.
I really don't think I bought anything new since I started my sustainability journey. I really don't remember the last time I bought something new.
LEXY: Where can people shop your store and find you on social media?
NATALIA: My shop is Nataliatrevinoamaro.com and that's also all my social media handles so that's also me on TikTok.
How to Contact Lexy Silverstein?
If you'd like to contact me, please email me at LexySilverstein@gmail.com.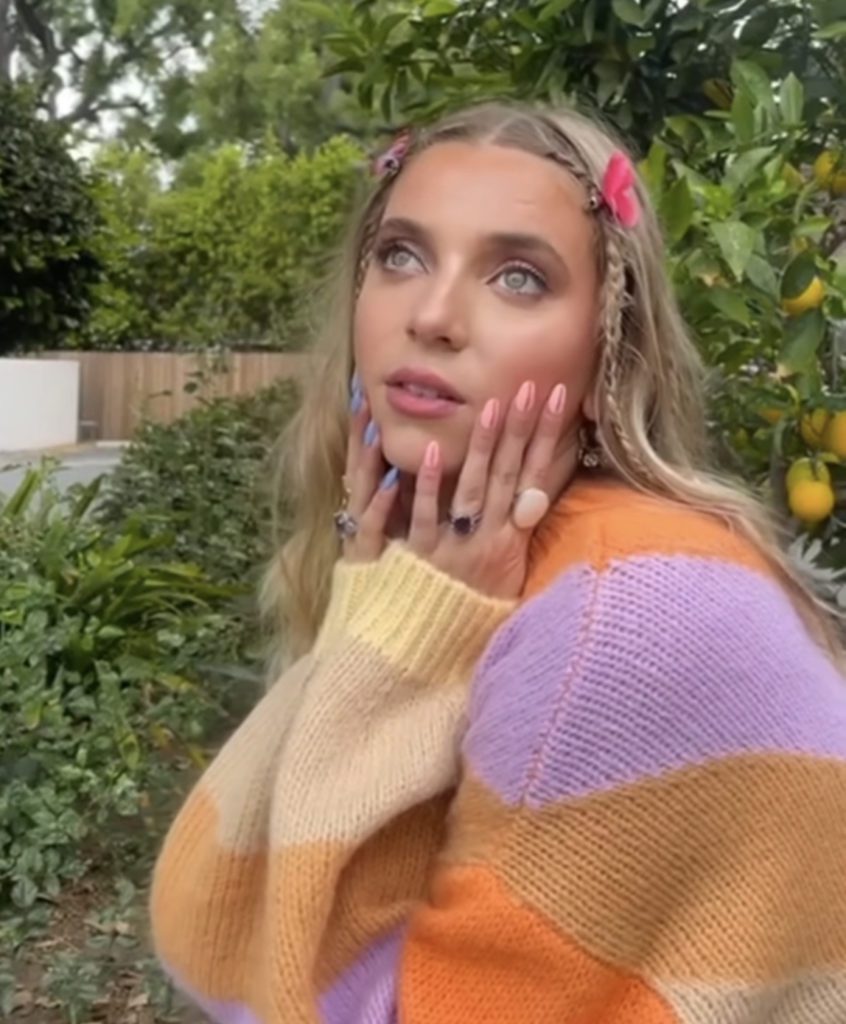 Follow me on my socials:
Instagram: @lexysilverstein
Youtube: Lexy Silverstein
Twitter: @eLEXYfy
TikTok: @lexysilverstein
Facebook: Lexy Silverstein
Liketoknow.it/lexysilverstein
Remember to eLEXYfy! Make the Ordinary, Extraordinary