The ex-boybander turned mega solo music star, actor, fashion icon and Gucci front man might be adding another title to his name… beauty brand entrepreneur.
Now if you've read my blog at all, or know me at all, you know how I feel about Harry Styles. I love his music, I love his style, I especially love what he represents, I love him, and I'm positive I'll love his new smell and beauty line.
Harry has yet to make any comments about this potential new venture, but the media caught wind of a trademark filing in the UK, under his full name, Harry Edward Styles for a company named "Pleased as Holdings Limited". According to US Weekly, the legal documents list "wholesale of perfume and cosmetics" as the nature of this new business and Harry is named as a director. And the word around town is that he is calling his brand, "Styles Edward Harry" rather than "Harry Edward Styles" so the initials spell out S.H.E.
We know Harry likes nail polish, eyeliner and fragrance.
He recently joined Gucci's advertising campaign pubbing their new fragrance, Memoire d'une Odeur.
In an interview with Dazed Digital, Harry explained how he felt about fragrance.
"I like a fragrance that has some emotion behind it," said Harry. "The triggering of memories from smell is really strong for everyone. My mother has always worn the same perfume. It smells like roman candles and jasmine. So like anytime I smell it, I feel like a kid again. I feel like everyone has those."
Harry seems to have the golden touch. Anything with his name on it seems to sell, so I'm sure his new company will also be a success.
I personally admire Harry Styles because of his philanthropic work. I believe he truly tries to spread love and joy through his music. His song "Treat People with Kindness" also seems to be his motto in life, as he puts his money behind his lyrics. In other words, he treats people with kindness. In 2017, during his 10 month tour, he raised 1.2 million for 62 charities around the world. His 2020 tour supported global charities such as Freedom from Hunger and Help Refugees.
MY PREDICTION
So we think Harry is getting into the beauty business. My prediction, mark the date, June 2, 2021, is that his next venture will be launching his own clothing line. In an interview with Vogue magazine, Harry speaks about his love for fashion. He says the music stars he grew up admiring such as Prince, David Bowie, Elvis, Freddie Mercury, and Elton John were showman and part of putting on a show is the right costume.
"I think if you get something that you feel amazing in, it's like a superhero outfit. Clothes are there to have fun with and experiment with and play with."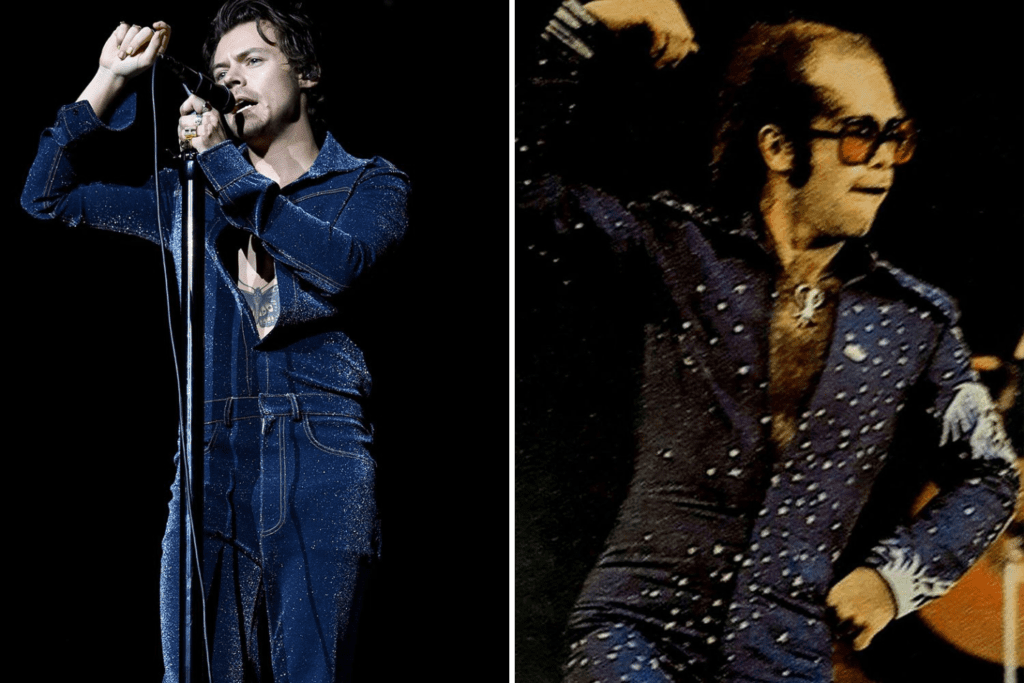 Challenge to Harry Styles
So Harry, before you launch that clothing line, please email me at LexySilverstein@gmail.com. I beg you to make that clothing line sustainable. You are working with Gucci and they have a pretty aggressive sustainable plan, so I'm assuming you care about that as much as the amazing clothes they make. You'd be the perfect spokesperson for a sustainable clothing brand. Of course, if you need a consultant, I'm here for you.
If you have any questions, please contact me at LexySilverstein@gmail.com.
Follow me on my socials:
Instagram: @lexysilverstein
Youtube: Lexy Silverstein
Twitter: @eLEXYfy
TikTok: @lexysilverstein
Facebook: Lexy Silverstein
Remember to eLEXYfy!
Make the Ordinary, Extraordinary