Guys, us ladies can't have all the fun. For probably much of your life, you didn't have to worry about fashion or trends. But for every guy, there comes a time when he starts to realize he needs to think a little bit about fashion and yes, even accessories. So I'm going to tell you the "must-have" accessories and the "strongly suggested" accessories.
Accessories tell a lot about a guy. And women do check out your accessories because they tell us so much important information about who you are. Accessories can tell whether you are practical, detail-oriented, have money, if you are creative, fun and adventurous, sophisticated, mysterious, if you are confident, if you care or don't care what people think about you, just to name a few things. That's a lot of information for a lady to process so let me tell you, we are looking at your bling, or lack their of.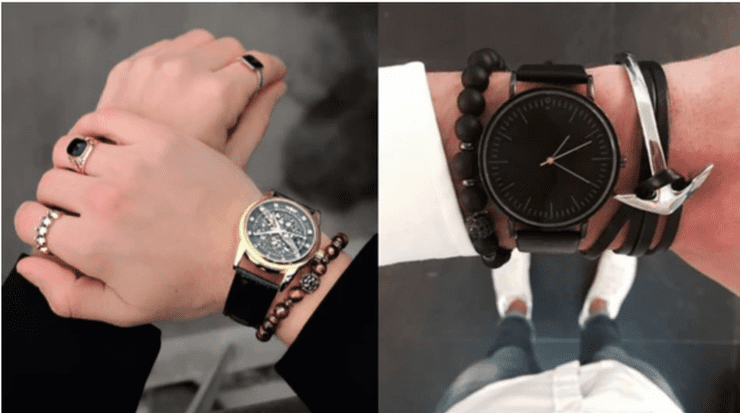 Your Must-Have Accessories:
Leather Belts: (Vegan leather is even better)
It doesn't matter whether you dress it up or down, every guy should have a nice leather belt. The great thing now is you can find reversible leather belts that are brown on one side and black on the other. At the very least you should really have both colors.
Here is a great example of a vegan leather brown/black reversible belt on Amazon for $35.
Wallets:
Obviously you need a wallet to keep your money, credit cards, ID, etc. There are so many wallets to choose from these days. I think of a wallet as something that you are going to have for years. Guys don't tend to change out their wallets, the way we change out our handbags. So buy a nice quality. It can be leather, nylon or another synthetic material but buy something that looks good, has a good layout for organization and also something that represents you and your style. There are classic, modern, artsy, causal wallets. You can even get tech wallets that have RFID protection to prevent electronic credit card theft. One particular wallet that I recommend is the Hide and Seek Wallet from Bellroy. It's got the RFID protection. It comes in many different colors. It's got room for business cards, 5 – 10 credit cards and a hidden coin and bill slot. It's also made with premium environmentally certified leather that comes with a three year warranty.
Ties:
Ties are a great way to make a fit more sophisticated. This year it's not about the "skinny" or "wide" tie, it's the classic tie that's on trend. Your typical 3-inch width that you can keep forever and ever or better yet, go get at a thrift shop. Ties are coming back into women's fashion as well. You don't only have to wear a tie with a suit, let's change things up and just wear them with whatever. A great little y2k Britney moment. Let's make it a more versatile accessory that you can dress up and dress down. Also floral is really trendy in men's fashion in 2021. I love to promote sustainable products so I really like this watermelon floral cotton tie from DoneGood, which says they are your one-stop-shop for ethical and sustainable goods.
Strongly Suggested Accessories:
Jewelry:
Jewelry isn't just for the ladies, guys. Rings, necklaces, and bracelets are a great way to spice up any fit. You just have to figure out what you like. What type of jewelry goes best with your skin tone, your personality, your fit. Fun fact: girls go crazzyyyy when they see a guy wearing jewelry. But dress for yourself. It's super fun to switch things up with your jewelry. Just like how you don't have to stick to one aesthetic with your clothing, you don't have to stick with one kind of jewelry. One place my brother likes to get cool jewelry is at TwoJeys.com.
Watches:
Like wallets, watches are good for more than just one thing. Not only are they stylish but they're a convenient piece of jewelry because you, of course, you will always know the time when you're wearing it. They're super sophisticated. Watches aren't necessarily necessary anymore because you have your phone and can easily just ask Siri what time it is. But wearing a watch instantly tells a woman you've got style.
Purses/Bags for Men:
Bag are super convenient as well because you can bring a lot with you while also adding more detail to any fit. Whether it's a briefcase or a bag/men's purse, whatever works for you, they're an amazing added detail. Here are some great looks for men's bags that I love on LovetoKnow.com
Scarves:
I love pairing scarves with jackets. You can always add a nice pop of color or much needed pattern to a fit with a scarf. Plus, it's a smaller garment so it won't over do an outfit. Here are some of the best scarves for men according to TheTrendspotter.net.
Glasses:
Sunglasses are an awesome accessory for men. Sunglasses obviously should be worn when you go outside to protect your eyes from the dangerous UV and blue light which can cause serious eye problems. But since the 1930's sunglasses they have been a popular accessory, especially on beaches. And no other accessory can transform a guy to "cool" faster than sunglasses. Men's sunglass styles for 2021 have gotten kind of funky. If you want to stay safe, a pair of Aviators or Wayfarers always work. Some of my favorite sunglasses these days are from Prive Revaux. Whatever Jamie Foxx is seen in on this site, you can bet is on trend.
Follow me on my socials:
Instagram: @lexysilverstein
Youtube: Lexy Silverstein
Twitter: @eLEXYfy
TikTok: @lexysilverstein
Facebook: Lexy Silverstein
Remember to eLEXYfy! Make the Ordinary – Extraordinary!