Welcome back to another entry of my five part series called My Favorite Product For A Neutral Makeup Look! There are five main products that I use when going for a natural style of makeup. Check out part 1 and part 2 of the series in the beauty section of my blog.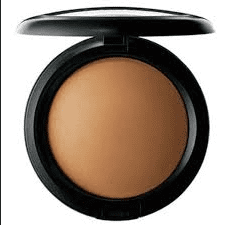 Part 3: Bronzer
I love the summer! I love the warm weather, no school, the beach, but my favorite thing is how tan I am for those three or four months. Then afterwards comes fall and then winter and the tan fades. Bronzer is what I use to keep that beautiful tan. I just feel better when all of my skin is one tone and when I don't have dark circles or spots.
My favorite bronzer is one from MAC called Give Me Sun! Ironic right, almost like I'm begging for summer to come back. When I apply bronzer I usually don't contour or do anything too much because I like to do a simple makeup look, almost as if I'm not wearing any. I take my heavenly luxe jumbo powder, number three brush, from IT Cosmetics and apply my bronzer evenly and lightly on my entire face.
This product has been eLEXYfyd!