It's been too long since my latest What's in My Bag blog. I've decided to bring it back monthly on eLEXYfy.com so you know what a broke college girl is buying or would "like" to buy to stay on trend. Let's face it, most of these items, I can't afford right now but that doesn't mean a girl can't dream. Kaden, mom, dad, and or my awesome brother, Spencer, if you're reading this and happen to be thinking of gifting me randomly because you love me so much, here's the place to start. KIDDING! (well sort of).
1. Pink Jumpsuit
First and foremost, I have been dying to get this jumpsuit from Peachy Den. The thing about jumpsuits, rompers, and dresses, is you can wear them a thousand different ways. This one specifically gives my such y2k vibes with the hot pink color. The jumpsuit itself can be zipped up for a more conservative look or if you want to go with a more scandalous look, unzip it to show a bit of skin (my personal fave hehe). You can wear this jumpsuit, just for the pants… meaning layer a shirt or sweater over the top part of the jumpsuit and no one will even know it's a jumpsuit, they'll think it's just cute pink pants with a sweater. Or you could pair some baggier pants over the bottom half of the fit or a maxi skirt to take advantage of the top and transform the look again. Finally, layer a long sleeve shirt or even a turtleneck underneath the jumpsuit for another look.
Sustainability: Peachy Den is a smaller brand in the U.K. They are working on becoming more sustainable by concentrating on more eco-friendly recycled fabrics, operating with a zero waste policy, meaning all leftover products are made into scrunchies and proceeds from those sales go to charities.
2. Prada Loafers
LOAFERS, they might just be my favorite trend of 2021. It's been a while since the last comeback. A few years back, if you mentioned loafers, the image that would pop in my head would not have been a pleasant one. But they're in now and boy are they good. Obviously I am loving the classic black Prada loafers. Just look at them! How could you not fall in love? They're definitely out of my price range but if I'm saving for anything right now, I'm saving for these babies.
Sustainability: Prada says their sustainability vision is driven by more than just moral obligation. On their website they say every action they take has the capacity to drive meaningful change and progress for both our business and society.
"The Prada Group's commitment to sustainability is rooted in three areas of focus – people, culture and environment"
3. Jeffrey Campbell Loafers
I've established Jeffrey Campbell is my favorite shoe brand. They come up with the craziest, most amazing designs I've ever seen for shoes. My personal favorites are these green, yellow, and orange loafers. Now I know I already talked about how much I love loafers but this color combo is insane. It's too good. It's not your typical color combo, making it that much better. Since there are so many colors, there are so many clothing options to pair them with. I personally like these more than the Prada loafers because I feel as if they fit my style way more. Plus, they're just so fun!
Sustainability: Shoe manufacturers can be the worst eco offenders because the way the shoes are made. Jeffrey Campbell has launched a vegan leather shoe brand but the company's products are made in China. I'm trying to learn more about this company or man. From what I can tell, there is actually a man named Jeffrey Campbell who used to work at Nordstrom before he launched his own company. I love this shoe brand and these shoes but I am concerned about the lack of transparency so I might need to take them off my "fave shoe list" if I find out they aren't making efforts to become eco-friendly.
4. House of Sunny Pants
Please help! I have decided to invest in one of House of Sunny's pants from their latest clothing drop and for the life of me, I cannot decide. Check out my blog post reviewing House of Sunny's latest line drop, where I talk about my dilemma. These designs are seriously the works of a creative genius. They all have their pros and cons, so it's hard to decide which pair to buy. I think they'll be a good investment because they are sustainable and original. You can literally wear them for the rest of your life as long as you don't mind getting attention, especially after this "60's vibe" trend isn't as popular.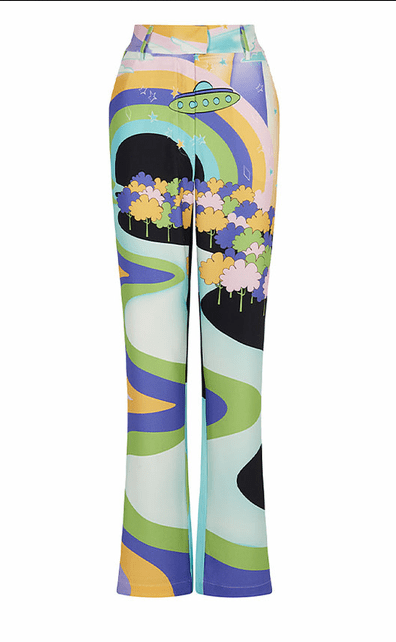 Sustainability: This is another company based in the U.K. House of Sunny says they are on their journey to sustainability. For example, some of their handbags are 100% biodegradable. The company screens their suppliers, ensuring they meet a set standard for social responsibility, safe working environment, better materials and manufacturing methods. They partner with supplies who share a common vision of sustainability, accountability and transparency.
Follow me on my socials:
Instagram: @lexysilverstein
Youtube: Lexy Silverstein
Twitter: @eLEXYfy
TikTok: @lexysilverstein
Facebook: Lexy Silverstein
Remember to eLEXYfy! Make the Ordinary – Extraordinary!