In the world of fashion, where trends can be as fleeting as a viral TikTok dance, one brand has stood out for its meteoric rise: SHEIN. With its ingenious digital marketing strategy, innovative business model, and partnerships with charismatic social media influencers, SHEIN has managed to become the largest fast fashion company globally, boasting a staggering $100 billion in under a decade.
The symbiotic relationship between social media and fashion is undeniable. It's a realm where influencers hold the reins to steer trends and mold consumer behavior. We've all seen the Shein-sponsored posts flooding our feeds, and let's be honest, it might be hard to find a Gen Z'er millennial who hasn't heard of the Chinese fast fashion behemoth. With nearly 8 million followers on TikTok and almost 30 million on Instagram, SHEIN has perfected the art of using social media to its advantage. Hashtags like #Shein and #SheinHauls have racked up billions of views, solidifying its stronghold on the digital fashion landscape.
But here's where we need to pause and reflect. Did these influencers and celebrities, whose faces grace our screens, knowingly step into a controversy? Probably not. It's likely that most of them are unaware of the far-reaching repercussions of their partnerships. That's precisely why we're putting pen-to-paper – or rather, fingers-to-keyboard – to implore influencers to rethink their associations with SHEIN.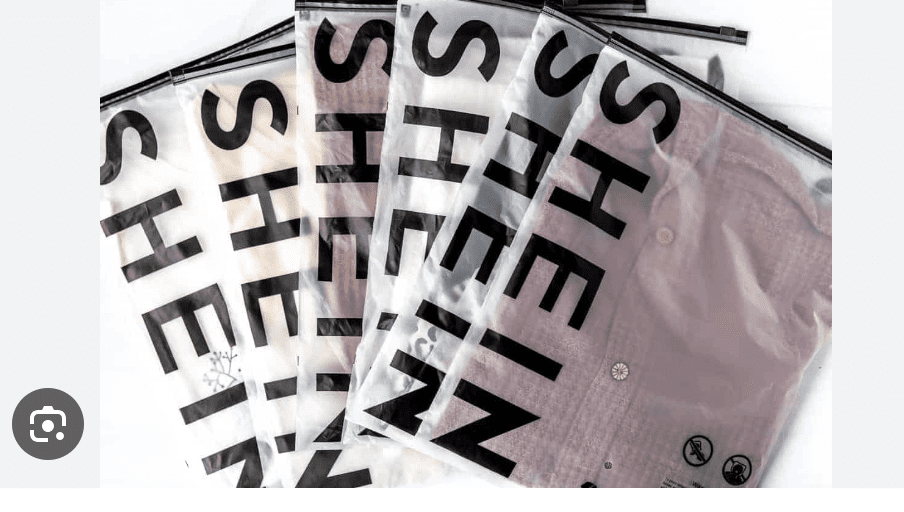 In my opinion, it's time has come for these influencers to take a stand against SHEIN, not out of animosity, but out of concern for our environment, ethics, and the future of fashion. The adverse effects of SHEIN's practices on our planet, the troubling labor practices, and the promotion of rampant consumerism make it a crucial step for influencers to disentangle themselves from this web.
Why Boycott SHEIN?
Some people will criticize me, asking "why SHEIN and why not Forever 21 or H&M or Zara or FashionNova?" Trust me when it comes to fast fashion they are pretty much in the same opinion bucket as far as I'm concerned. But SHEIN is the biggest kid on the block and so I'm focusing my effort on them. We all know ALL of fast fashion is a problem and even the fashion industry in general. But if you take on the biggest & baddest offender and make a dent, it sends a strong message to the rest. Who knows maybe the dominoes will fall!
A Deep Dive into the Issues with SHEIN
Promotion of Hyper Consumerism
SHEIN's business model thrives on encouraging the insatiable hunger for new clothes, where disposable items are procured en masse. Influencers play a pivotal role in this cycle, flaunting their latest SHEIN hauls and encouraging their followers to mimic their choices. This culture of conspicuous consumption has dire consequences. It leads to overuse of resources, an explosion of waste, and an insatiable demand for rapid fashion turnovers.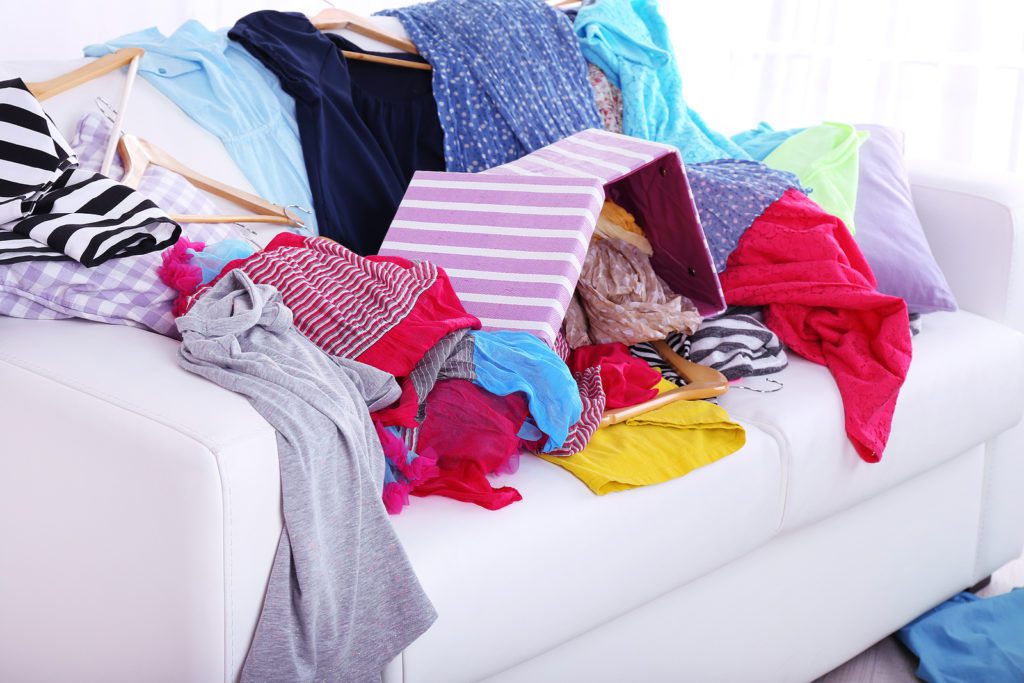 Environmental Impact
The fast fashion industry has become synonymous with ecological disaster, and SHEIN is no exception. Its one of the biggest companies accused of the rapid turnover of cheap garments which fuels resource depletion, pollution, and waste. By endorsing SHEIN, influencers indirectly sanction practices that exacerbate climate change. The company's unquenchable thirst for quick turnarounds (producing as many as 6000 garments a day) results in the reckless exploitation of water, energy, and raw materials, all while adding to the pollution plaguing our ecosystems and landfills.
Unfair Labor Practices
In its pursuit of cost-cutting production, SHEIN has faced allegations of exploiting labor in developing countries. Unsafe conditions, underpaid workers, and unchecked working hours paint a grim picture of this industry's underbelly. By aligning with SHEIN, influencers inadvertently condone these injustices, contributing to the suffering of vulnerable workers.
Intellectual Property Violations
Perhaps one of the most glaring accusations, from designers against SHEIN, revolves around its unauthorized replication of designs from independent designers and small businesses. This not only stifles innovation but also tramples upon the rights of creators. By endorsing SHEIN, influencers inadvertently support this unethical behavior, further corroding the creative ecosystem.
A Cry for Accountability
Influencers possess an unprecedented power to shape the choices of their followers. This influence comes with responsibility. The concerns surrounding SHEIN – be it the environment, labor practices, or intellectual property – demand influencers to wield their sway thoughtfully. Breaking ties with this global fashion giant could pave the way for a fashion industry that's responsible, sustainable, and respectful of our planet, its inhabitants, and the innovative minds that fuel it.
A Turning Point for Me
Hey, I'm guilty too. I used to be a part of the problem and I'll likely find out I'm potentially causing other problems. I've personally had a few turning points as a shopper and content creator. While I never worked with SHEIN, I did shop at fast fashion stores and shared my hauls on Instagram like everyone else. I still share hauls but now they are #ThriftHauls. Some might accuse me of contributing to hyper consumerism by thrifting. It's something I think about, as I go through my sustainability journey. I've explored the gentrification of thrifting. I'm actively trying to do better but I will still make mistakes. I do have a capsule wardrobe and I try to figure out how to transform my closet into as many outfits as possible. But I also like to refresh my wardrobe, so I second hand source or partner with sustainable brands. No one is going to be perfect, not any brand and not any individual. It's hard to be sustainable but if we are all committed to doing our part, I think we can make a big difference.
Why I am on a Mission to Educate Consumers about SHEIN
Recent years have shone a harsh spotlight on SHEIN. Allegations of environmental negligence, exploitative labor practices, and intellectual property violations can no longer be ignored.
SHEIN is allegedly trying to become more sustainable. I was supposed to attend a meeting with my school and the Director of Sustainability at SHEIN. I was kind of shocked too: that they had one. But then that meeting has been canceled twice. That was not so shocking.
But I really do hope they are being serious about sustainability and not just greenwashing. So far, I've seen a lot of vague goals with no detailed or transparent metrics that back up their words.
I hold out hope, but until I see a sustainability plan that has been independently reviewed I refuse to support SHEIN. I refuse to support SHEIN's partnership with my school Fashion Institute of Design & Merchandising (FIDM) or any other fashion school. That's why I started a Change.org petition calling for an end to the SHEIN/FIDM partnership.
Some 4600 signatures and two meetings later, FIDM seems to be listening. They approached me about a partnership with a sustainable brand and I'm talking to them about establishing a Student Partnership Committee, so students can actively participate in the evaluation, selection, and ongoing assessment of potential partnerships with external organizations. I'm hoping this negative experience can turn into something positive for all of us.
New Petition: College Students Stop Supporting SHEIN
Even though my school has said this partnership was one-and-done, I've realized that my mission isn't over. It must expand beyond SHEIN's partnership with FIDM. SHEIN will likely try to partner with another fashion or business school and SHEIN has already infiltrated colleges with their ambassadorship program. There are currently more than 30,000 college social media influencers at colleges across the country all posting their #SHEINHauls in exchange for lots of trendy, cheaply made clothing.
So my next mission is to try to convince college females to trade the glitter and glam of SHEIN's clothing for a better future.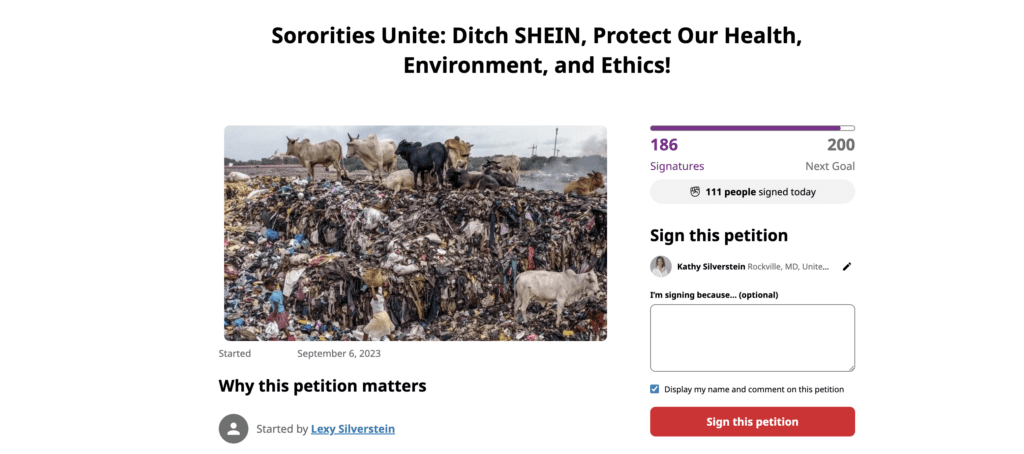 It might not be easy. I've been making some noise – speaking out against SHEIN telling their story to anyone who will listen including: VOGUE, Los Angeles Times, The Guardian, Spectrum News, Fox 5 DC and Montgomery County Media. But I've really only just begun.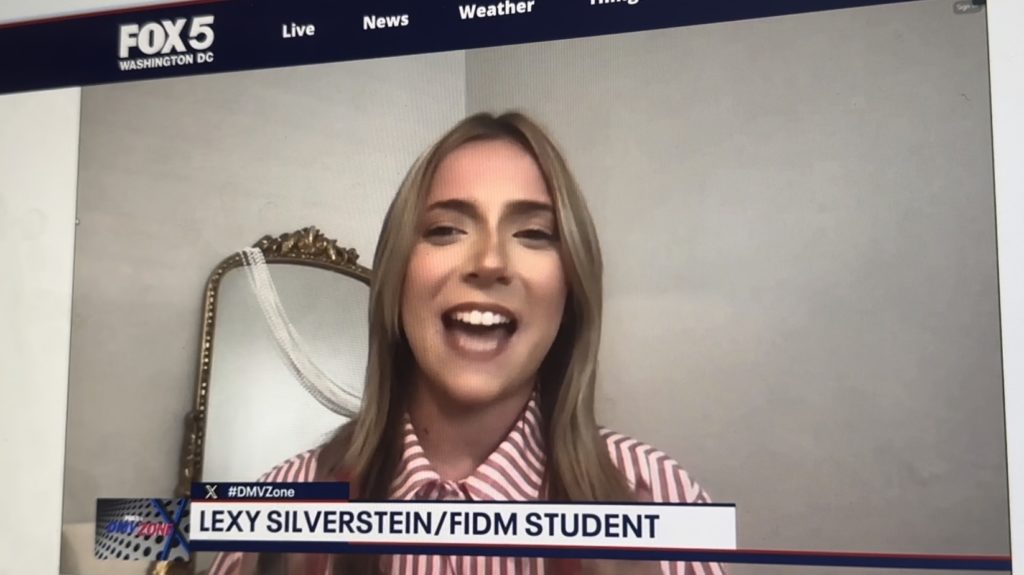 Why I Ask Influencers to Rethink Their SHEIN Partnerships
In my opinion, there is more than enough independent reports about SHEIN's unethical business practices to convince people it's not a company they should align themselves with if they are concerned about our industry, our garment workers and our planet.
The road ahead is clear: by severing ties with SHEIN, influencers can become catalysts for change, sparking a revolution in the fashion industry, one that reveres our environment, honors ethical labor, and upholds artistic originality.
I'd love your feedback. Oh and please sign my petition to get the younger generation to STOP shopping at SHEIN.
Lexy Silverstein is a Sustainable Fashion Consultant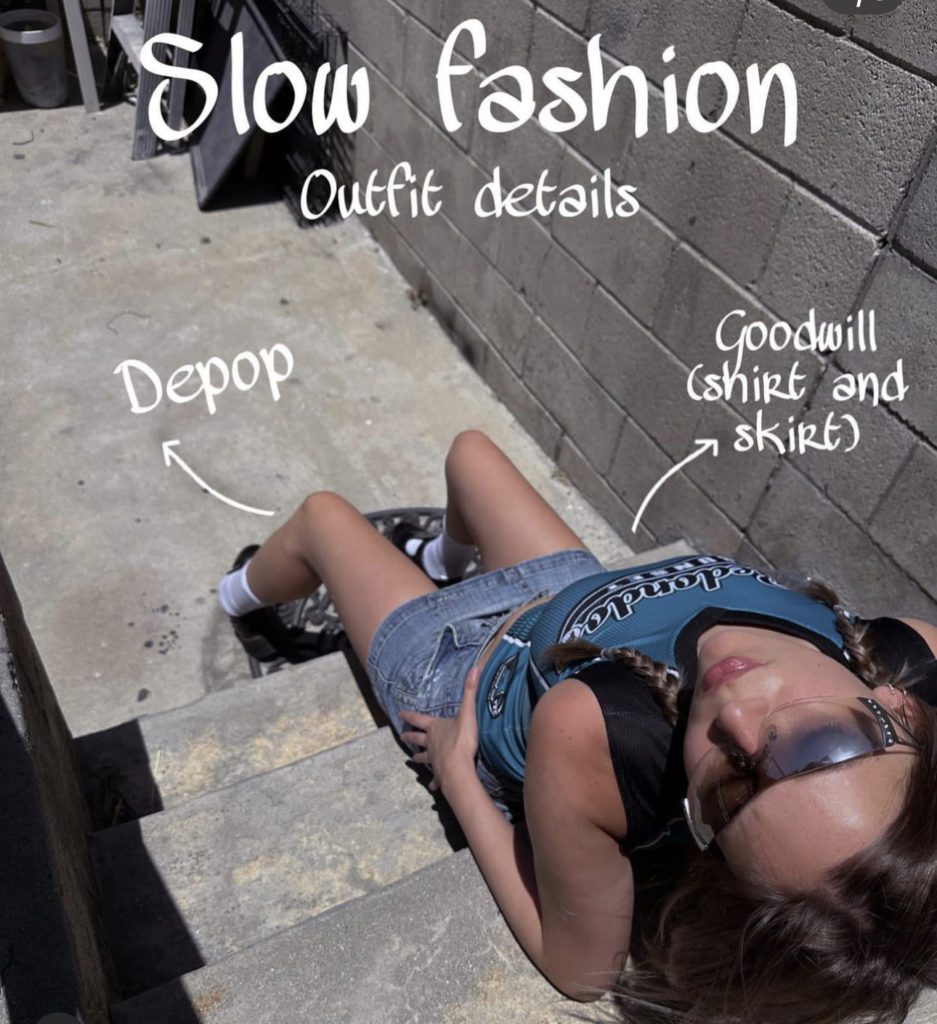 If you'd like to email me, you can reach me at LexySilverstein@gmail.com
Follow me on my socials: Instagram: @lexysilverstein Youtube: Lexy Silverstein Twitter: @eLEXYfy TikTok: @lexysilverstein Facebook: Lexy Silverstein Liketoknow.it/lexysilverstein
Remember to eLEXYfy! Make the Ordinary, Extraordinary