HOW TO SHOP SUSTAINABLY
Who doesn't love new clothes? If I could constantly have new clothes in my closet, trust me, I would. We joke about the need for "retail therapy" when we are having a bad day. Well, scientists concur it's a very real thing. When you are shopping in person or online, studies show that dopamine, the brain's "feel-good" hormone, is released even before a purchase is made.
So as long as shopping doesn't become compulsive or addictive, it could be good for your mental health. But, and this is a very big but…this feel good activity leads to the overconsumption of products, which is a big reason why the fashion industry isn't sustainable. Fast fashion is a business model that follows fashion at warp speed, manufacturing trendy clothing cheaply and selling it inexpensively so consumers can have access to the latest designs presented on the catwalk in Paris, Milan and New York. Consumers are purchasing these "on-trend" garments, wearing them once or twice, and then many times, throwing the clothes away because the trend is now over. So fast fashion makes clothing nearly disposable, leading to the much bigger problem of increasing the industry's carbon footprint. The volume of textiles that end up in U.S. landfills is skyrocketing – 11.5 million tons in 2017, compared to 1.7 million tons in 1960, according to the Environmental Protection Agency.
But, do not fret! There is still a way to bring new clothes into your closet without increasing your carbon footprint. And we are not talking about thrifting this time. Have you ever thought about renting your clothing? Meet Nuuly.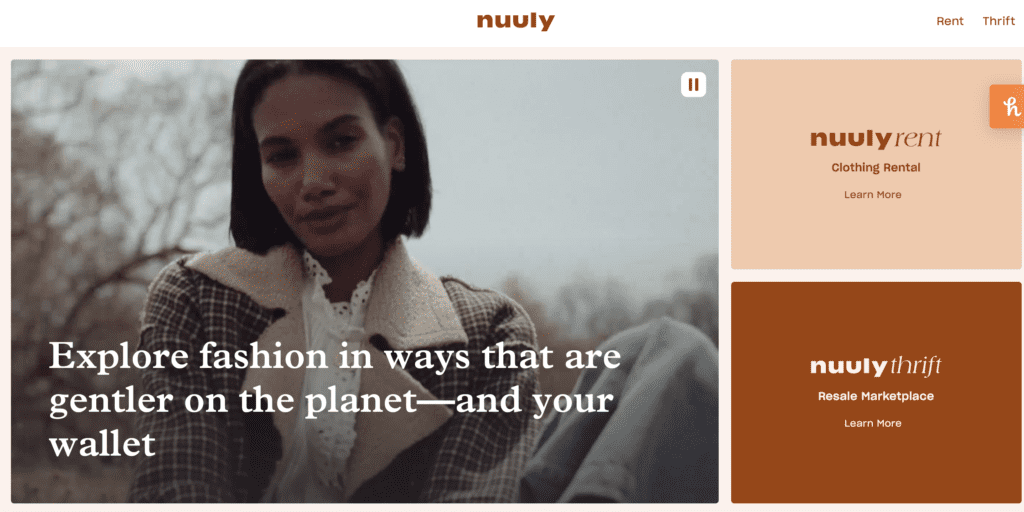 RENT YOUR CLOTHING
Nuuly is a website/app that allows you to rent clothing. You know the old saying, "orange is the new black," well renting is the new buying of fast fashion. Nuuly works with a monthly subscription. Each month you pay $88 for six pieces of clothing. They offer fast and free shipping so you get your clothes in just a few days. At the end of the month, you simply pack up your clothes in a reusable bag made from post-consumer plastic and send it back. When Nuuly receives your clothes, they recycle them back on the website where other customers can wear them through their membership. The act of re-wearing garments extends their end life. You might be done with that piece of clothing but that doesn't mean someone else is.
Another plus for shopping at Nuuly: Let's say you accidentally stain or tear a rented garment, the company will either mend it or professionally treat any stains. If a piece is beyond repair, the garment will be repurposed for their Re_Nuuly thrift service line. ​None of their clothing is discarded, they are always sold on their Nuuly Thrift page.
NUULY THRIFT
Nuuly Thrift is another aspect to the Nuuly app. It is an online thrift store where sellers can sell their old, vintage, upcycled, or even new pieces to customers. It is a way to get a little extra cash and 1% of Nuuly Thrift's revenue is donated to Stripe Climate to help fund CO2 removal technology. Some other facts that are listed on Nuuly's website include:
Over 70% of clothing is laundered in custom-built energy- and water-efficient wet washing machines.
They use non-alkaline and phosphate-free cleaning solutions in their wet washing process, which are gentler on the environment.
The remainder of their styles are dry cleaned in a PERC-free solution.
This past month I wore my Nuuly finds almost everyday.
The Strawberry Tiered Midi Skirt
This Midi Skirt was the perfect way to end summer fashion. The strawberry detail was the most adorable fruit detailing. I have noticed fruit being incorporated in fashion. Personally I think we have Harry Styles to thank for this "fruity" trend. Harry Style has three very popular songs involving fruit, "Watermelon Sugar", "Kiwi", and "Cherry". If Styles wrote a song about his love of cows, I can promise you everyone would be wearing cow print the following day. The tiered layers, in the skirt above, made me feel like a princess and, of course, I had to wear a pink top to complete the monochromatic pink look.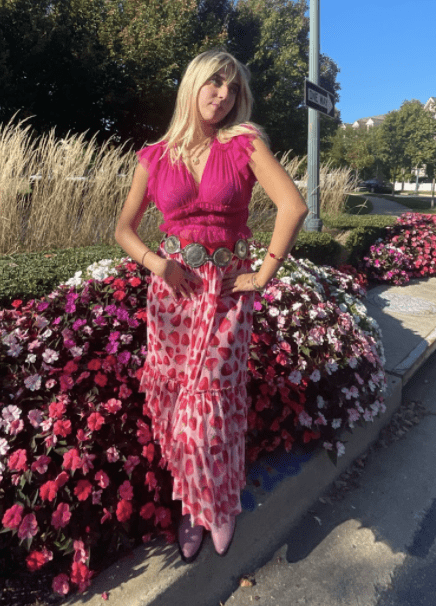 Making Me Smile Top
This sheer mesh top (above) was such a fun "party" top. The shoulder ruffles added the cutest detail. I paired this with The Strawberry Tiered Midi Skirt and although the pinks didn't match perfectly, that's okay. Mixing lighter and darker shades of the same color works.
Mia Pleather Faux-Fur Trim Jacket
This light blue pleather faux-fur trim jacket was to die for. I wish I had the chance to wear it more but I stupidly decided to rent it during summer. This jacket was going to be the best part of any outfit, so I paired it with a more simple look because the jacket is the star of the show.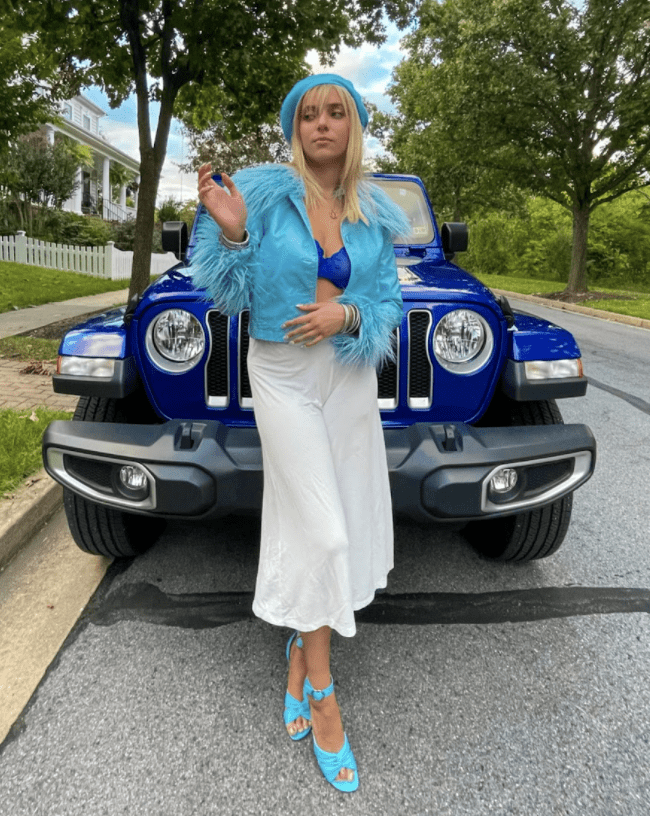 Twill Utility Pants
I wore these neon green (below)pants to the Harry Styles concert so they will always have a place in my heart. They were the absolute perfect amount of baggy. I decided to also go with a monochrome neon green look to really stand out. I also paired it with some red accessories to match the Harry Styles theme of strawberries, cherries, and watermelons.
Green Silk Top
I also wore this neon green blouse (below) to the concert. This fit got so many compliments. The top had a cowboy vibe to it which is amazing because the western theme is trending right now in the fashion industry.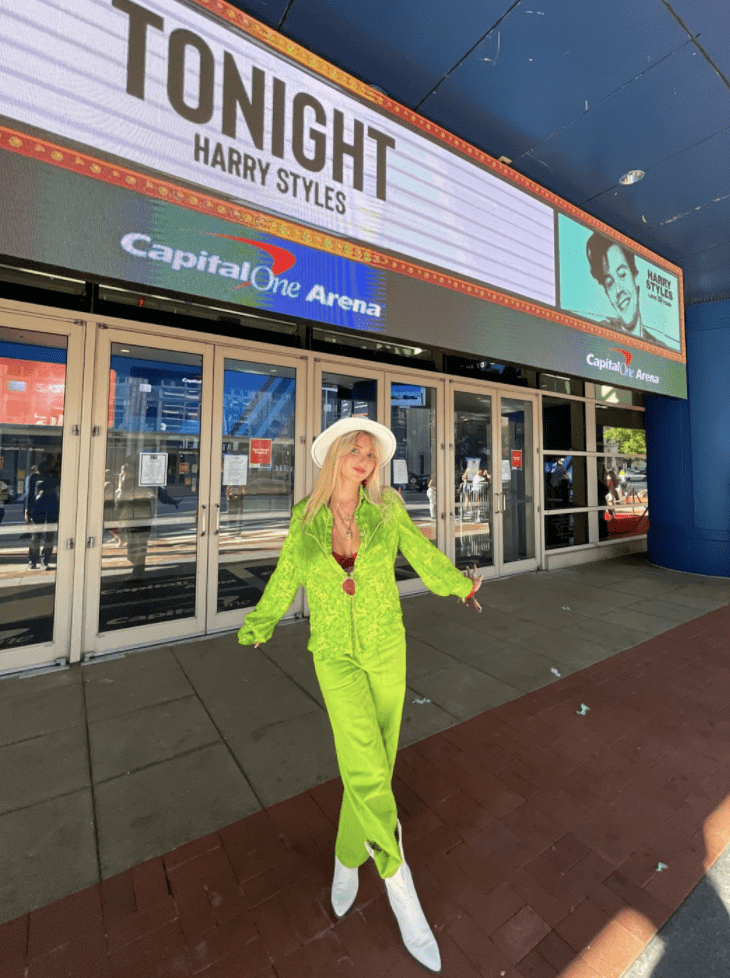 Bryn Pull-On Flare Pant
These pants were also trending this past Summer. I am a huge fan of mixing patterns so I incorporated that into this fit with these pants. The sweater had a different pattern but it was brown. So if you mix patterns but they are in the same color scheme, it's interesting but cohesive.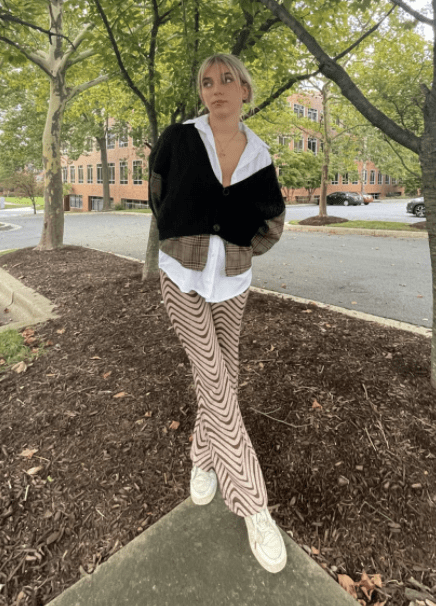 If you have any questions, please contact me at LexySilverstein@gmail.com.
Follow me on my socials: Instagram: @lexysilverstein Youtube: Lexy Silverstein Twitter: @eLEXYfy TikTok: @lexysilverstein Facebook: Lexy Silverstein Liketoknow.it/lexysilverstein
Remember to eLEXYfy! Make the Ordinary, Extraordinary