The SHEIN and Forever 21 partnership…. it's as if Thanos and Darth Vader had a baby, creating an unstoppable fast fashion machine dooming our planet to an ending textile tsunami. Two of the most infamous fashion villains joining forces is literally my worst nightmare as a sustainable fashion advocate. The World Has Too Many Clothes Already!!
Let's think about this for a second. We already have enough clothes to dress the next six generations of the human race, according the British Fashion Council. That means we can cloth everyone on the planet for a hundred years – without making one more garment. And SHEIN alone allegedly produces 10,000 new products a day.
Now SHEIN, the behemoth online fast fashion company with 150 million online users, and Forever 21, with more than 540 retail stores worldwide, are trying to expand their global reach. This marriage from hell could result in world clothing domination! Just what we need – more cute, trendy inexpensive clothing that costs so little, it easily fulfills our fashion fix, creating endless trend junkies with no consequences, while disposable clothing takes a big toll on our planet.
Every year, Americans throw out more than 34 billion pounds of clothing and folks with higher incomes generate a whopping 76% more clothing waste.
SHEIN & Forever 21 Alone are Problems, Together are a Monster
Individually, SHEIN and Forever 21 are creating problems in their own right. But when these two fashion titans join forces, it's like a match made in the depths of the fashion underworld. Their partnership is a dangerous synergy that could take fast fashion to new heights (or depths, depending on how you look at it).
It's time to break free from this cycle of overconsumption, environmental degradation, and exploitation of cheap labor. As consumers, we have the power to make conscious choices, support sustainable fashion brands, and put an end to the "apocalypse" looming on the horizon. How can we do that? Well, we can choose quality over quantity and style over trends, because a more sustainable and fashionable future is possible, but only if we demand it.
How to Stop the Fast Fashion Carbon Footprint?
First of all, if companies aren't going to engage in truly sustainable practices, then they should be ashamed. We shouldn't let them get away with greenwashing anymore. While you and I individually can't make them be transparent or do what's right, we can refuse to shop there until they prove they are changing. We can do our research. Look companies up on Good on You, Remake, Fashion Revolution, etc.
The other thing you can do is sign the pledge to stop shopping at SHEIN. I'm asking Gen Z, college sororities in particular, to sign this pledge, so we can take on the biggest fast fashion offender. If we can make a difference, even put a dent in SHEIN's sales, can you imagine the potential ripple effect?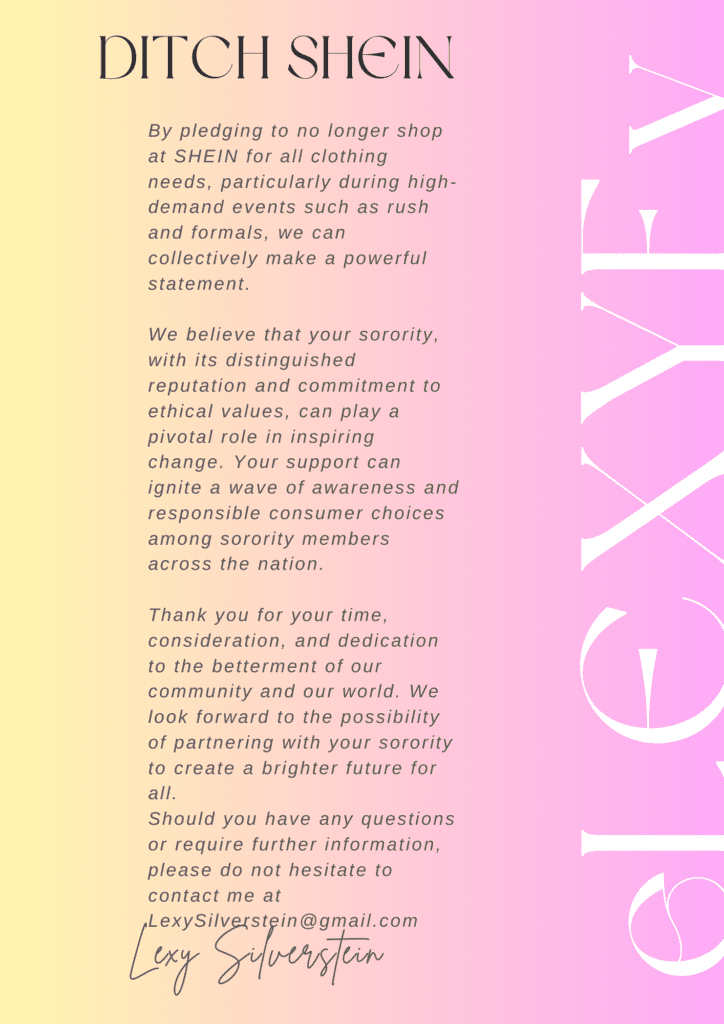 Fast Fashion Warning
We look up to so many social media influencers but hurting the planet and the people on it is not cool. So fast fashion is not cool. Social media influencers could help out a lot by severing ties with companies like SHEIN and Forever 21. I don't want to publicly shame any particular influencers but I am also asking influencers to stop supporting fast fashion companies responsible for poor working conditions, toxic chemicals in their clothing and copying small designers' creatives.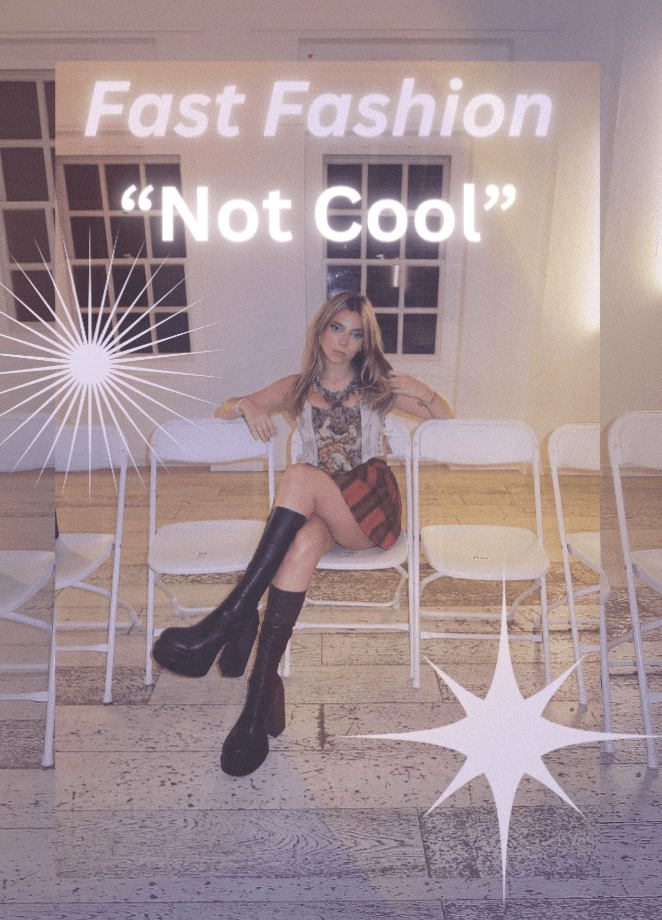 What You Can Do to be Sustainably Fashionable
Don't Commit Unless You are in LOVE!: Purchasing quality clothing that is unique and timeless is not only a sustainable choice but also helps reduce the negative impacts of the fashion industry. Here are some tips to help you make more mindful and sustainable clothing choices:
Know Your Values and Priorities: Before shopping, take some time to reflect on your personal style, values, and priorities. What kind of clothing do you truly love and feel comfortable in? What values are important to you, such as sustainability, ethical production, or supporting local businesses?
Quality Over Quantity: Invest in fewer high-quality pieces rather than buying a large quantity of cheap items. Quality clothing typically lasts longer and is less likely to end up in landfills.
Research Brands: Research clothing brands and their practices. Look for brands that are transparent about their supply chain, labor conditions, and environmental impact. Supporting ethical and sustainable brands can make a big difference.
Choose Sustainable Materials: Opt for clothing made from sustainable and natural materials like organic cotton, hemp, Tencel, or recycled fabrics. These materials tend to have a lower environmental impact.
Buy Secondhand: Consider shopping at thrift stores, consignment shops, or online resale platforms. Secondhand clothing is not only sustainable but often offers unique, vintage, or high-quality pieces at a fraction of the price.
Invest in Timeless Pieces: Focus on classic styles that won't go out of fashion quickly. This way, your clothing will remain relevant for years, reducing the need to constantly update your wardrobe.
Custom and Tailored Clothing: Consider having some of your clothing custom-made or tailored to your specific measurements. This ensures a perfect fit and can make your clothing more special and unique.
Support Local Artisans: Explore local boutiques and artisans who create unique, handcrafted clothing. Not only will you find one-of-a-kind pieces, but you'll also support local economies and reduce the carbon footprint associated with shipping.
Care for Your Clothing: Properly care for your clothes to extend their lifespan. Follow care instructions, mend items when needed, and consider professional cleaning for delicate pieces.
Minimalist Wardrobe: Adopt a minimalist wardrobe approach, focusing on versatile pieces that can be mixed and matched. This reduces the need for excess clothing and promotes a clutter-free closet.
Ask Questions: When shopping, don't hesitate to ask questions about the clothing's production process and materials. Brands that are committed to sustainability should be happy to provide information.
Plan Your Purchases: Make a list of clothing items you genuinely need before shopping. This prevents impulse buying and ensures that every purchase serves a purpose in your wardrobe.
Support Repair and Recycling Initiatives: Look for brands that offer repair services or recycling programs for old clothing. This promotes circular fashion and reduces textile waste.
Educate Yourself: Stay informed about sustainable fashion trends, materials, and ethical practices. The more you know, the better choices you can make.
By following these tips, you can build a wardrobe that reflects your unique style, lasts for a lifetime, and contributes to a more sustainable and ethical fashion industry. Remember that your choices as a consumer can have a significant impact, both on the environment and on the fashion industry's practices.
Lexy Silverstein is a Sustainable Fashion Consultant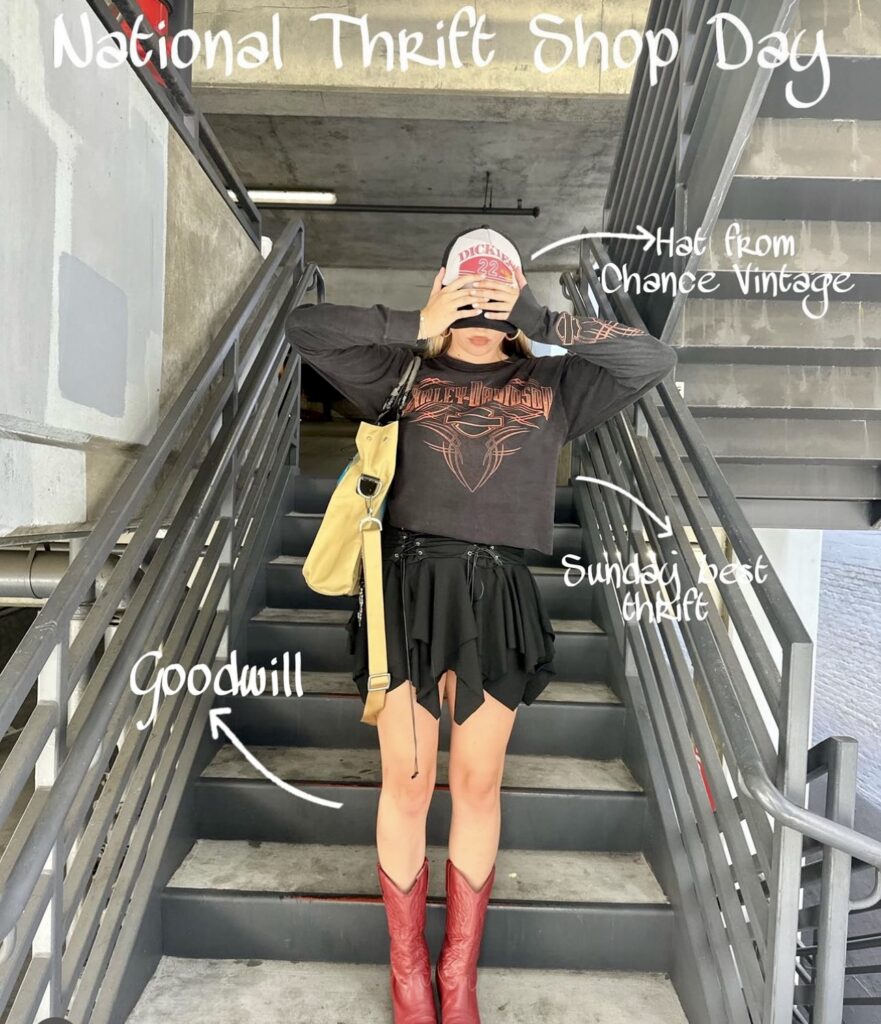 If you'd like to email me, you can reach me at LexySilverstein@gmail.com
Follow me on my socials: Instagram: @lexysilverstein Youtube: Lexy Silverstein Twitter: @eLEXYfy TikTok: @lexysilverstein Facebook: Lexy Silverstein Liketoknow.it/lexysilverstein
Remember to eLEXYfy! Make the Ordinary, Extraordinary